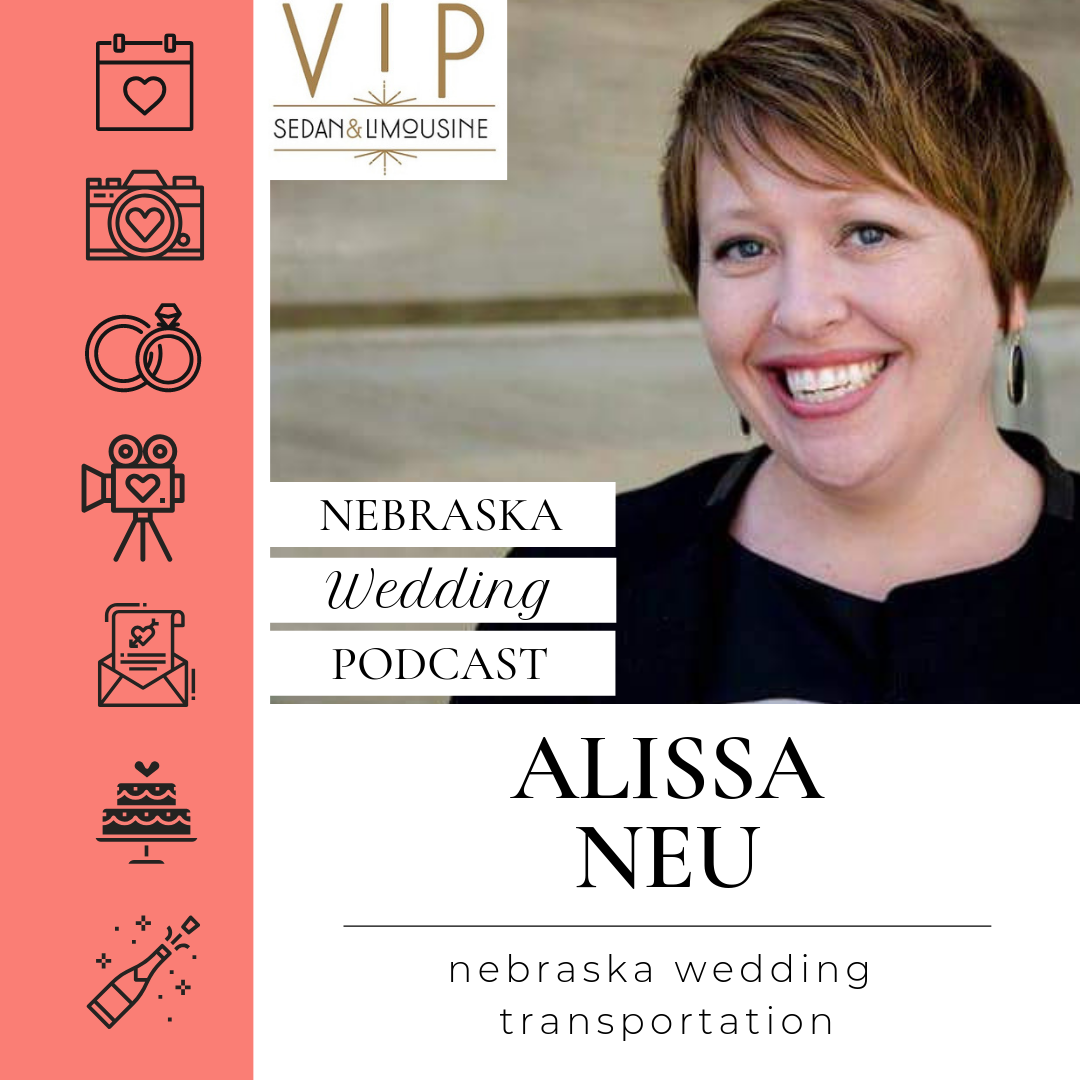 On Episode 18 of the Nebraska Wedding Podcast, Kelly chats with Alissa Neu, General Manager of VIP Sedan and Limousine, and they talk about ALL things transportation! (Believe us – there's SO much you didn't think about that would make your day SO much smoother. You'll be glad you listened to this one.)
VIP has served the Omaha community for seventeen years, and from the very beginning has aimed to provide customers with a customized, fun, and SAFE experience. Alissa mentions that transportation is something most people don't really think about, but having a plan is so incredibly beneficial. After talking to her about what that looks like, we entirely agree!
Alissa's background is in hospitality and nonprofits. (3:10) This background gave her a really interesting, people-focused perspective on what she does for VIP.
Alissa goes over things customers may not know about VIP and the transportation industry in general (3:35), and the small, yet very important, details you probably have never considered. (Including chauffeur training. You don't WANT your wedding chauffeur and a corporate chauffeur to act the exact same way, do you? VIP knows this.)
Alissa talks about how unlike many other wedding service providers, most couples never meet with her face-to-face, (7:00) but couples are always invited to come see the vehicles before the big day. She does, however, carefully plan with each couple, whether it be in person or by phone. By talking to the couple, Alissa helps customize a transportation plan that truly meets their needs… whether they thought of them or not! Do you know how gramma and grandpa are getting home? You didn't really think about that? No worries! Alissa is on it!
She also shares specific planning details you may have not thought of yet, but will want to if you're planning a wedding (9:50). You'll be shocked you didn't think of them before, but SO glad you did now.
This episode gets us thinking about these, and so many day-of details we're SO much better off for considering. They're just another thing to tick off the list to make your wedding day THAT much smoother.
We hope you learn as much as we did!